Anyone who has ever seen either a picture of Miami's skyline, or has seen it in person, is sure to have been impressed by the sleek, modern towers rising seemingly straight out of the water and into a deep blue sky dotted with puffy, white and grey clouds. Many of those towering buildings are modern office buildings or luxury residences lining the exclusive and high-end Brickell Avenue.
Soon to add an additional notch of class to this desirable avenue will be the much awaited Miami Flat Iron Brickell Building. The building, designed by famed architect Luis Revuelta, the Miami Flat Iron Brickell will be one of the tallest buildings in Miami.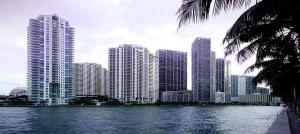 With 550 residences on 65 floors, the design is sleek and modern, resembling a cruise liner sailing on the waters of Biscayne Bay.
Developers of the project, which will rise just north of the Metromover light rail and the "Flatiron Park," are veteran Miami developer Ugo Colombo, and internationally renowned Russian real estate developer Vladimir Doronin.
Sales of units at the Flat Iron were launched by Vladimir Doronin and Ugo Colombo in late April. In addition to the apartments, 40,000 square-feet of retail space will also be available, including a restaurant, lounge and more.