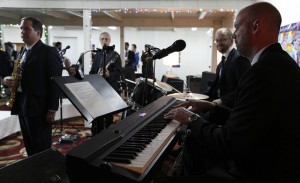 April is "Jazz Appreciation Month," also known as JAM! In honor of this wonderful month which is a delight to the ears, let's talk about a few of the young, up and coming jazz musicians of our day.
I don't know what you think of when you hear the word 'Azerbaijan," but I think of one of my favorite musicians from that oil-rich country, Beyler Eyyubov. Before arriving on the shores of America, where he now lives in Brooklyn, Beyler Eyyubov played with some of the best jazz artists in his home country. Backing up singers like, Sevda Alekperzadeh, or jamming with the likes of Azerbaijan Honorary Artist Rain Sultanov, Eyyubov was beginning to make a name for himself before he moved to the US in 1997. I hope we will be hearing more from him soon.
Heading to a completely different part of the world, I would like to take some time to explore the world of jazz in Japan. The list here is long, but among my favorites are Satoko Fujii, an avant-garde jazz pianist and composer; guitarist Yoshiaki Miyanoue, who plucks the strings with his thumbs in the style of Wes Montgomery, who influenced Miyanoue in many ways; and Gota Yashiki, who is an acid jazz musician playing drum and bass for the band Simply Red.
Our trip through the literal world of jazz would definitely be incomplete without a stop in Africa. One of my favorites, who had a sad ending to his life, is Moses Khumalo. His instrument was the saxophone, and boy could he blow. The first time he performed in public was at the Grahamstown National Arts Festival in 1995, and he made a name for himself as a member of the band led by Moses Taiwa Molelekwa whose end by a weird coincidence, also ended tragically.
So celebrate JAM this month- listen to some of the world's greatest sounds, and enjoy.